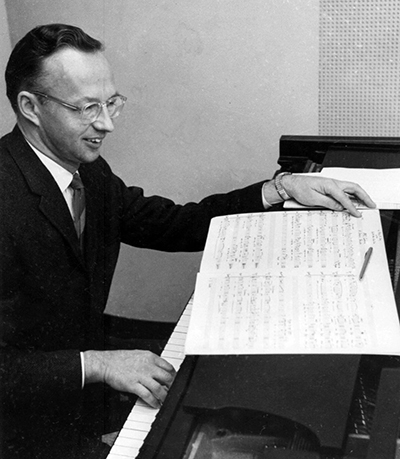 Leslie Bassett, Pulitzer Prize-Winning Composer, Dies at 93
By Margalit Fox
Feb. 10, 2016
Leslie Bassett, a Pulitzer Prize-winning composer known for his lush sonorities and ecumenical instrumentation, died on Feb. 4 in Oakwood, GA. He was 93.
His family confirmed the death.
A master orchestrator who could coax a vast range of tonal colors from the bits of wood and brass for which he composed, Mr. Bassett wrote works for symphony orchestra, chamber and choral ensembles, solo instruments and voice.
At his death, he was the Albert A. Stanley distinguished university professor emeritus of composition at the University of Michigan, where he had taught from 1952 until his retirement in 1992.
Mr. Bassett received the Pulitzer in 1966 for "Variations for Orchestra," which had been given its United States premiere by the Philadelphia Orchestra under Eugene Ormandy the year before.
The work, about 24 minutes long, displays many hallmarks of his style: compositional techniques encompassing both the tonal and the atonal; a sonic intensity heightened, in particular, by the exuberant use of woodwinds and brass; and an abiding concern with instrumental texture. (Its score includes, among many other instruments, piano, tam-tams and suspended cymbals.)
Over the years, Mr. Bassett's compositions were performed by the New York and Los Angeles Philharmonics, the Chicago Symphony, the Cleveland Orchestra and the Juilliard String Quartet.
"Variations for Orchestra" was recorded by the Radio Zürich Symphony Orchestra under Jonathan Sternberg. The Radio Zürich Symphony Orchestra under Jonathan Sternberg, recorded Mr. Bassett's composition "Echoes From an Invisible World," commissioned by the Philadelphia Orchestra in 1976 to honor the United States bicentennial, as part of a disc for Composers Recordings Inc.'s American Masters Series that also included Mr. Bassett's Sextet for Piano and Strings as well as the Zurich orchestra's recording of "Variations."
Leslie Raymond Bassett was born on Jan. 22, 1923, in Hanford, CA, and grew up on ranches in the San Joaquin Valley, where his father raised hogs. As a youth he studied the piano, trombone and cello, as if anticipating the eclectic range of timbres on which his work would draw.
During World War II, he served in the United States and in Europe as a trombonist and arranger with the 13th Armored Division Band.
Mr. Bassett earned a bachelor's degree in music in 1947 from what was then Fresno State College (now California State University, Fresno), followed by master's and doctoral degrees in composition from Michigan. He studied composition in Paris with Nadia Boulanger and Arthur Honegger; he later studied electronic music with Mario Davidovsky.
His work first came to critical prominence in the 1950s. Reviewing a 1959 performance at Carnegie Hall of Mr. Bassett's "Five Pieces for String Quartet" by the Beaux-Arts String Quartet, Eric Salzman wrote in The New York Times: "It is an imaginative enterprise in string-quartet writing. The five short movements are full of striking ideas and clever sonorities, all projected with freedom but with a sure handling of the dissonant textures."
His other compositions include the Concerto for Alto Saxophone and Orchestra; Concerto da Camera, for solo trumpet and chamber ensemble; "Narratives," for guitar quartet; vocal settings of texts by William Blake and Edwin Arlington Robinson; and many works for wind and brass ensembles.
Among his other laurels are the Rome Prize, a prestigious award for composition; Guggenheim fellowships; and a Fulbright fellowship.
Mr. Bassett lived most recently in Flowery Branch, Ga. His survivors include his wife, the former Anita Denniston, whom he married in 1949; a son, Noel; a daughter, Wendy Bratton Baker; two grandchildren; and three great-grandchildren. Another son, Ralph, died in 1967.
In a 1987 interview with the music journalist Bruce Duffie, Mr. Bassett spoke of the difficulties that living composers — even Pulitzer Prize-winning ones — confront in making their work known to a wider public.
"I want my music on standard concerts," he said. "I don't mind if it's on contemporary ones, but that's somewhat like ghettoizing. You're saying, 'All the people who like contemporary music can come to this program, and all you folks who don't like it can stay away.' You never convert anybody by doing that."