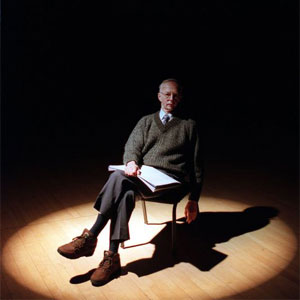 Leslie Bassett, former U-M composer, dies at 93
Mark Stryker, Detroit Free Press Staff Writer. Published: 7:48 p.m. ET Feb. 4, 2016
Pulitzer Prize-winning composer Leslie Bassett, who nurtured generations of students during a 40-year teaching career at the University of Michigan, died today in a continuing care facility in Oakwood, Ga. He was 93 and until recently lived in Flowery Branch, Ga.
His death was confirmed by the School of Music, Theatre and Dance at the University of Michigan.
Bassett's music offered a lucid clarity of means and expression that engaged the mind, delighted the ear and, at its best, moved the soul. He favored a strongly chromatic language, working at the intersection of tonality and atonality, leaning one way or the other depending on where his ear took him in a particular piece.
The Concerto for Orchestra (1991) and "Thoughts That Sing, Breathe and Burn" (1995), both of which were premiered by the Detroit Symphony Orchestra, show off sensuous and shimmering textures, tactile orchestration and wind sonorities that swoosh upward in athletic dashes.
Bassett's initial inspiration took off from Bela Bartok but then spread through a variety of modernist idioms and techniques. He distrusted dogmatic approaches to composition, preferring to keep his options open and seeking a marriage of craft and emotion in his music.
"I want people to be moved," Bassett told the Free Press in 1997. "I write the most beautiful music I can imagine. … We don't have to use folk tunes or jazz or whatever to reach an audience. We can reach them with our own music."
Bassett was awarded the Pulitzer Prize in 1966 for his Variations for Orchestra, which was completed in 1963 and was premiered that year by the RAI Symphony Orchestra of Rome. The work's first U.S. performance was in 1965 by the Philadelphia Orchestra conducted by Eugene Ormandy. Bassett's large catalog included roughly 125 works in nearly every genre, except for opera.
Among his most notable students at U-M, where he taught from 1952-92, were Russell Peck, Frank Ticheli, Evan Chambers, Stacy Garrop and Gabriela Lena Frank (currently the DSO's composer-in-residence).
Bassett was born in Hanford, Calif., on Jan. 22, 1923. He played piano and trombone as child and served as trombonist, composer and arranger with the 13th Armored Division Band in the U.S. and Europe during World War II. Bassett earned a bachelor's degree from Fresno State University in 1947 and then studied composition with Ross Lee Finney at the University of Michigan, where he earned master's and doctorate degrees. He also took lessons with Nadia Boulanger (1950-51) and Roberto Gerhard (1960), and later studied electronic music with Mario Davidovsky.
In addition to the DSO and Philadelphia Orchestra, Bassett's music has also been performed by the major orchestras of New York, Chicago, Cleveland, Boston and Los Angeles. Other performers include the Juilliard and Concord string quartets and pianist Gilbert Kalish. Bassett's music has been recorded on many labels, among them New World, Composers Recordings (CRI), Crystal, Albany and MMC.
Bassett is survived by his wife, Anita; a son, Noel; and a daughter, Wendy Bassett Baker. A son, Ralph, died previously.
Link: https://www.freep.com/story/entertainment/music/2016/02/04/leslie-bassett-composer-obituary/79831346/